North West School International Summer Camp
English
Language
Academic
Summer
Mixed with Local Students
Accommodation Included
Flight Ticket Not Included
The Northwest School opened its doors in the fall of 1980 to 230 students. It was a 6-12 school, just as it is today, and was centered on the belief that to create a great school you must first hire a great faculty. The following spring, its first ten graduates received their diplomas. Over the next 35 years, the school added an international boarding program and doubled the size of its student body. Today, we enroll 500 students, 80 of whom are from countries other than the United States.
1. Two-week Summer Camp (with boarding option)
For over 30 years, The Northwest School has provided a welcoming and engaging summer program for youth, ages 10-16, from across Seattle, the U.S., and the world.
With integration at all levels, from the classroom to the dorm room, we are truly an international camp; English becomes a passport to new friendships and understanding for both American and international students as they learn together in class and play together outside of the camp day.
Boarding Program
Our dormitory is located just one block west of the main school building and houses approximately 54 students on gender-specific floors. Students live two to a room, sometimes with a roommate from a different country. Each floor includes a lounge where students can relax and socialize. Residential advisors are always present to help ensure a safe and happy student body. Our boarding program has a minimum age requirement of 12.
Boarding campers will enjoy meals prepared daily by our professional kitchen as well as a full schedule of evening and weekend activities.
Past activities have included:
Taking a ferry across the Puget Sound
Cheering on the Mariners at a baseball game
Exploring the innovative exhibits at the Museum of Pop Culture
Seeing fish thrown at Pike Place Market
Enjoying views of Seattle from the Space Needle
Enjoying warm summer days at one of Seattle's many beautiful parks and beaches
Please note that the above list is not guaranteed, as many things may affect the camp schedule (weather, athletic teams game schedules, museum closures, etc.), but campers do enjoy a full roster of activities during their time in Seattle.
The dorms are equipped with laundry facilities, computer access, and wi-fi. We will also provide a bath towel, bed linens, and a pillow. Campers need only bring their clothes, personal toiletries, and some spending money for souvenirs and snacks.
2. One-week Summer Camp (without boarding option)
Spend a week with our experienced summer camp teachers exploring the Pacific Northwest. Whether you're on a camping trip or staying closer around town, these camps offer a chance to get out and explore. Please note that boarding is NOT available for these camps. And while we welcome international students, there is no English support for these camps. Participants should be able to participate in English.
Coastal Backpacking 101 July 15-19, 8:30 am – 4:00 pm.
Spend two days at the Northwest School learning the basics of planning a backpacking trip. Make a menu, get to know your gear, map your route, and make a safety plan. Then, head out to the Olympic Coast for a three-day and two-night trip. Set up your tent under the stars, explore tide pools and coastal forests, and wiggle your toes in the sand. This easy backpacking journey allows plenty of time for exploration as you travel from site to site. The Northwest School has the gear you can borrow, or you can bring your own. A packing list will be sent prior to camp.
Cascade Foothills Geology July 22-26, 8:30 am – 4:00 pm.
Washington's Cascade Mountains offer a "range" of exploration and activities. Spend the first two days of the week at the school understanding the geologic history of Washington state and how it fits into the Pacific Ring of Fire. On Wednesday, head into the Cascade foothills for three days and two nights of hiking, camping, and exploring. You'll set up a base camp, and then head out for a hike each day. The Northwest School has the gear you can borrow, or you can bring your own. A packing list will be sent prior to camp.
Seattle Inside and Out August 5-9, 8:30 am - 4:00 pm
What makes Seattle one of the greatest cities in the world? Find out as you spend time outside, exploring a local park and beach, and hiking in nearby mountains. Immerse yourself in the history of the people who've called Seattle home. Visit the headquarters of one of the world's largest companies, and iconic Seattle attractions like the Space Needle and Pike Place Market.
1. Boarding School
The Northwest School is the only independent school in Seattle with an international co-ed boarding program. Experienced residential advisors are always present and boarding campers will enjoy full housing amenities, nutritious meals prepared by our professional kitchen staff, and evening and weekend outings.
2. Customizable Curriculum
Campers have the ability to design a schedule that reflects their personal interests and goals for the summer! Pick and choose from over 60 class offerings spanning the arts, science, athletics, and more!
3. True International Experience
Our Summer Camp is an international mecca in the heart of Seattle. Join us this summer and create your own global connections!
4. Supportive curriculum for English learners
Our summer faculty are experts in their fields and capable of engaging students of diverse skills and backgrounds. With experience in intercultural instruction, our teachers are prepared to assist students with a broad range of English levels and learning styles while also maintaining an engaging and challenging curriculum.
Two Weeks Program
Our summer camp is a two-week program. The day is broken down into four periods and students are required to select a class for each period. They then participate in these classes for the duration of the camp, culminating in an end-of-camp showcase where students present their projects.
We offer three sessions. Students may register for one, two, or all three sessions (selecting different classes for each session). For 2019, our camp dates are as follows:
Session 1: July 8 - July 19
Session 2: July 22 – August 2
Session 3: August 5 – August 16
Please note that camp runs from Monday - Friday. There are no classes on the weekends. However, students in our boarding program will have planned activities during the weekends.
Daily Camp Schedule for Monday - Friday
8:30 am Doors Open
9:00am – 10:30am Period 1
10:35am – 12:05pm Period 2
12:05pm – 1:00pm Lunch (provided) and Midday Activities
1:00pm – 2:30pm Period 3
2:35pm – 4:05pm Period 4
4:30 pm Doors Close, all campers must be picked up
5:30 pm Dinner and evening activities for boarding students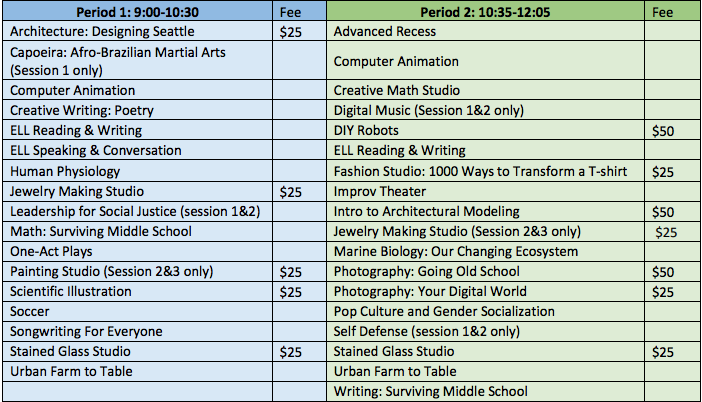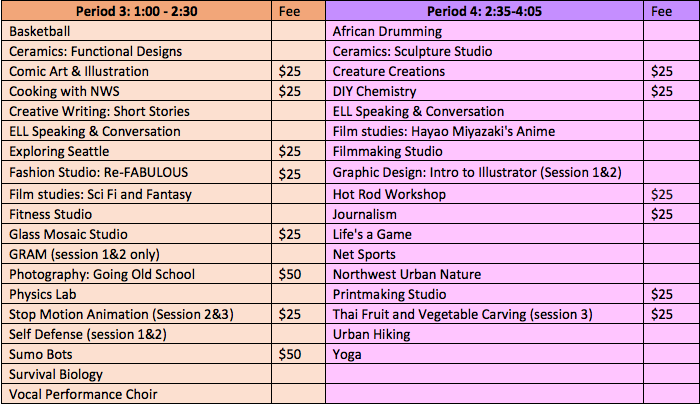 Boarding Program
Weekdays
7 am................................... Wake-up
8 am.................. Breakfast (provided)
9am – 4:05pm ........... Camp Classes
4:05 – 5:30pm ................. Free Time
5:30 – 6:30pm ...... Dinner (provided)
6:30 – 9:30pm ..................... Activity
9:30 – 10:30pm .............. Quiet Time
11 pm................................ Lights Out Dorm Schedule
Weekends
9 am.................. Breakfast (provided)
10 am – 3 pm......................... Activity
Evenings ........................... Free Time
One Week Program (without boarding option)
Coastal Backpacking 101 July 15-19, 8:30 am – 4:00 pm. Depart for overnight trip Wednesday morning, return Friday afternoon
Cascade Foothills Geology July 22-26, 8:30 am – 4:00 pm. Depart for overnight trip Wednesday morning, return Friday afternoon
Seattle Inside and Out August 5-9, 8:30 am - 4:00 pm daily

Our camp is open to youth ages 10-16, with the exception of our boarding program, which has a minimum age requirement of 12.
Summer 2019 Registration is scheduled to open on February 4, 2019
Registration will stay open until two weeks prior to the start of a camp session. Closing dates for each camp and session are as follows:
Summer Camp, Session 1: June 24, 2019
Summer Camp, Session 2: July 8, 2019
Summer Camp, Session 3: July 22, 2019
Camp Tuition:
Two weeks camp without boarding:$875 / session
Two weeks camp with boarding:$2375 / session
One week camp(no boarding option):$750 [Coastal Backpacking 101 / Cascade Foothills Geology] 或者 $600 [Seattle Inside and Out]
Airport Pickup Fee
Airport transfers are available to boarding students at additional cost ($100 one-way). We ask that flights arrive no earlier than 10:00 AM on the Sunday before camp starts and depart no later than 3:00 PM on the Saturday after camp ends.
Medical Insurance
One session ............................... $65
Two sessions .............................. $90
Three sessions .......................... $115
Class Material Fee
It will depend on the course, which could be free, $25, or $50. Please check the "Schedule Two-Week Program" section above.
North West School International Summer Camp
USD $1050
{"id":274,"amount":0,"max_per_order":10,"auto_wait_list":1,"booking_start_at":"2019-02-12T21:51:06Z","booking_end_at":"2019-06-24T21:51:41Z","start_date":"2019-07-08","end_date":"2019-07-19","payment_type":1,"price":1050,"currency":"USD","tax_percent":0,"program":48,"title":"Two weeks camp Session 1 (without boarding)","slot_left":null,"max_this_order":10,"register_expiry":2,"program_type":0}
Registration Steps
1
Choose the camp you want and make the pre-payment
2
Our team member will contact you within 48 hours to comfirm the purchase
3
Once comfirmed, we will charge the payment and help you to get ready for your trip
ClassTop promise you
We handpicked every camps
Enjoy with local students