Knight Camp(Spring)
Sport
No Flight No Accomodation
Mixed with Local Students
Spring
Welcome to the only authentic knight school for youth (ages 8 – 14) in Canada where knightly skills are taught in an engaging and safe environment by Academie Duello trained instructors. Knight Camp has been voted "The Best Children Camp" by Georgia Straight and takes place at our beautiful 5,000 square foot facility in Downtown Vancouver. We've been now operating 11 years straight and we have taught over 1000 children over that period.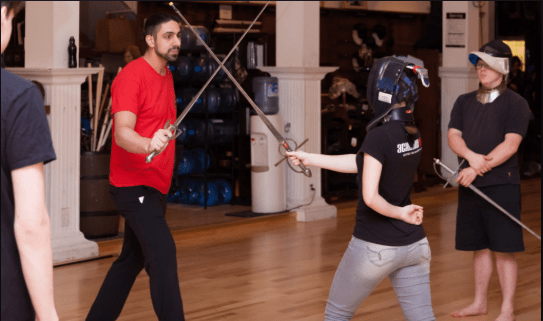 The five-day camp curriculum is focused on the skills of becoming of a knight – from martial arts of the longsword and sword and shield – to the practice of knightly virtues such as courage and integrity. Students at Knight Camp learn about history, leadership, heraldry, archery, medieval games and more.
Everyone uses properly weighted and balanced synthetic swords that give the authentic feel of the real thing – while staying safe and easy to manage. Students will also get the opportunity to interact with real swords and armor as well as create their own shield. At the end-of-week finale, each student will graduate to their next rank.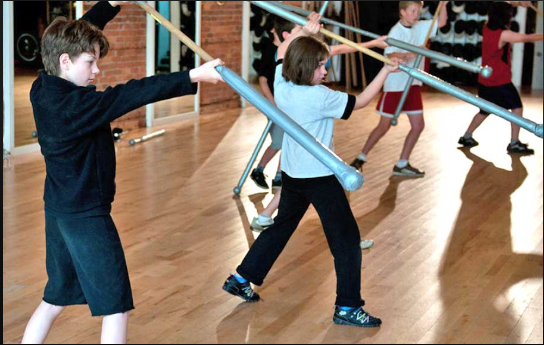 Monday - Friday, March 18 - 22, March 25 - 29
Daily Schedule
Monday

Tuesday

Wednesday

Thursday

Friday

Virtues 10:00

Obedience & Nobility

Mercy & Justice

Integrity & Valour

Charity & Faith

Courage & Humility

Lesson I 10:30

Grappling

Longsword II

Staff II

Sword & Shield II

Group Battles

pm 12:00

Lunch!

Lunch!

Lunch!

Lunch!

Lunch!

Academics 12:45

Block 1

Block 2

Block 3

Block 4

Review

Lesson II 1:45

Longsword I

Staff I

Sword & Shield I

Martial Arts Review

2:00-4:00 Finale!

Sparring 2:45

N/A

Intro to Sparring

Intro to Tournament

Scenarios

Wrap-Up 3:15

Virtue Circle

Virtue Circle

Virtue Circle

Virtue Circle

3:30

End

End

End

End

4:00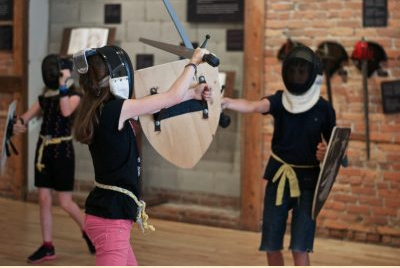 One week of Knight Camp:
Cost: $425 + Tax per child
Every student will need the following for each day of the camp:
Lunch, plus one or two snacks and a refillable water bottle

Clothing comfortable for movement and physical activity: sweatpants, track pants, or shorts along with a t-shirt and an additional long-sleeved shirt for sparring

Comfortable and flexible footwear, such as an indoor running shoe, with non-marking soles

Leather or cotton gloves
Tuesday through Friday the following equipment is required for sparring and certain sections of the class. Without these items, your child will not be allowed to fully participate in camp activities.
Protective sports groin protection (jock or jill strap)

Elbow pads and knee pads such as those used for roller-blading
The following are not required but are strongly recommended, and can greatly add to your child's comfort:
Padded gloves

Shin guards

Shoulder protection, such as those used in hockey or lacrosse
Gloves can be purchased at a hardware store or at the Academie Duello store. Other protective gear is available at most sporting goods stores, or at the Academie Duello store.
Head protection, in the form of fencing masks, is provided by Academie Duello, but students are free to bring their own fencing masks if they've got them.
Knight Camp(Spring)
CAD $569
{"id":235,"amount":0,"max_per_order":10,"auto_wait_list":1,"booking_start_at":"2019-02-13T00:46:31Z","booking_end_at":"2019-03-01T00:46:46Z","start_date":"2019-03-18","end_date":"2019-03-22","payment_type":0,"price":569,"currency":"CAD","tax_percent":0,"program":44,"title":"Knight Camp Session 1","slot_left":null,"max_this_order":10,"register_expiry":2,"program_type":0}
Registration Steps
1
Choose the camp you want and make the pre-payment
2
Our team member will contact you within 48 hours to comfirm the purchase
3
Once comfirmed, we will charge the payment and help you to get ready for your trip
ClassTop promise you
We handpicked every camps
Enjoy with local students